Please find the Brain Connectivity Workshop Series Report available here.
The IdeaScale Campaign will remain open for feedback until Tuesday, October 5, 2021.
To receive additional updates about the BRAIN Initiative, please visit and subscribe to the BRAIN Update Blog: https://brainblog.nih.gov/
Description of the Workshop Series
This series of workshops, co-hosted by The National Institutes of Health (NIH) BRAIN Initiative and the Department of Energy (DOE) Office of Science, brings together researchers with broad expertise to discuss the state of the art in mapping complete neural circuits, the opportunities for advancing connectomics technologies, and the challenges that need to be addressed to generate comprehensive maps of brain connectivity – "wiring diagrams" spanning the entire mammalian brain.
Workshop Access: NIH VideoCast
Each workshop will be livestreamed for attendees using NIH Videocast. You will be able to view the workshops live at https://videocast.nih.gov/ on the day of the event. You may click on the links below for more information and to download a calendar file to save an event to your personal calendar.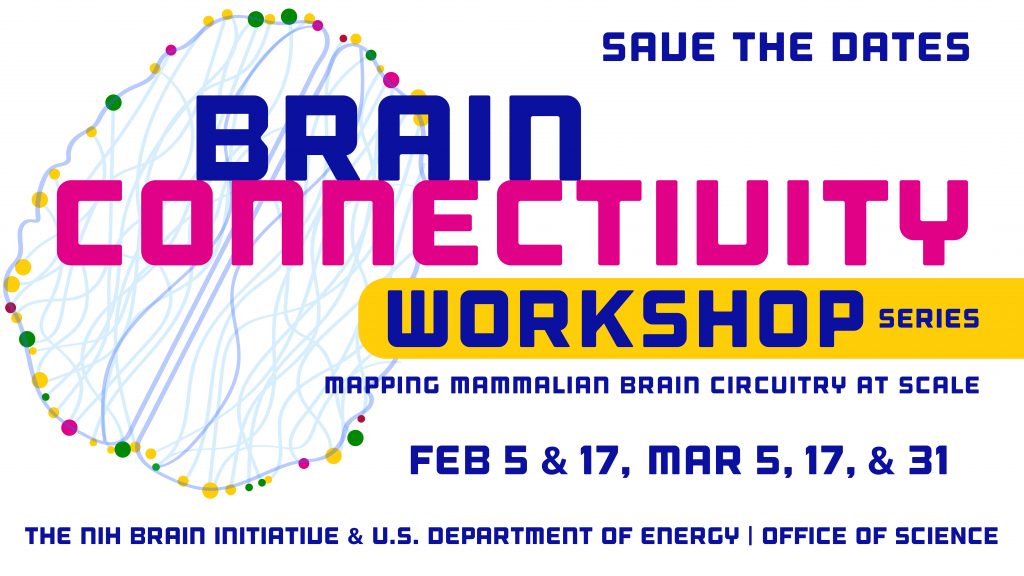 A list of materials associated with this workshop series are provided below. 
DOE/Office of Science report on Bioimaging Capabilities to Enable Mapping of the Neural Connections in a Complex Brain



Workshop Steering Committee
Ruben Alvarez, EdD

 (NIMH)

Andrea Beckel-Mitchener, PhD

 (NIMH)

Greg Farber, PhD

 (NIMH)

Kristen Harris, PhD

 (Co-Chair, U. of Texas at Austin)

Adam Kinney, PhD

 (DOE-SC)




Steven Lee, PhD

 (DOE-SC-ASCR)

Peter B. Littlewood, PhD

 (Co-Chair, U. of Chicago)

John Ngai, PhD

 

(NINDS

/BRAIN

)

Michele Pearson

 

(NINDS)

Amanda Price, PhD

 (NICHD)

Ryan Richardson, PhD

 

(NINDS)

Amy Swain, PhD

 

(DOE-SC-BER)

Edmund Talley, PhD

 (NINDS)
For program questions and assistance: 
For meeting logistics: